Introduction to Patient Safety Education for Physicians
This page is a resource for quality and safety education topics that are appropriate for physicians, fellows, resident physicians, and advanced practice providers. These course offerings will give the learner information on quality, patient safety basics, and targeted clinical areas for improvement.
Identification of In-Hospital Adverse Events and Evaluation Through Root Cause Analysis
This course was designed to provide education on the identification, reporting, and evaluation of in-hospital patient safety events.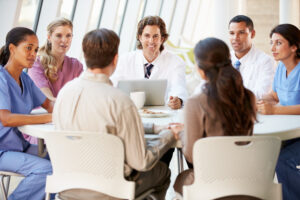 Through your participation in the three online interactive modules that make up this course, you will actively learn:
Definitions of patient safety events and elements to include in quality patient safety event reporting;
An introduction to root cause analysis as a tool in the evaluation of patient safety events;
And how this information translates into a real-life adverse event through exposure to a simulated root cause analysis